JelqToGain All Day Stretcher
1001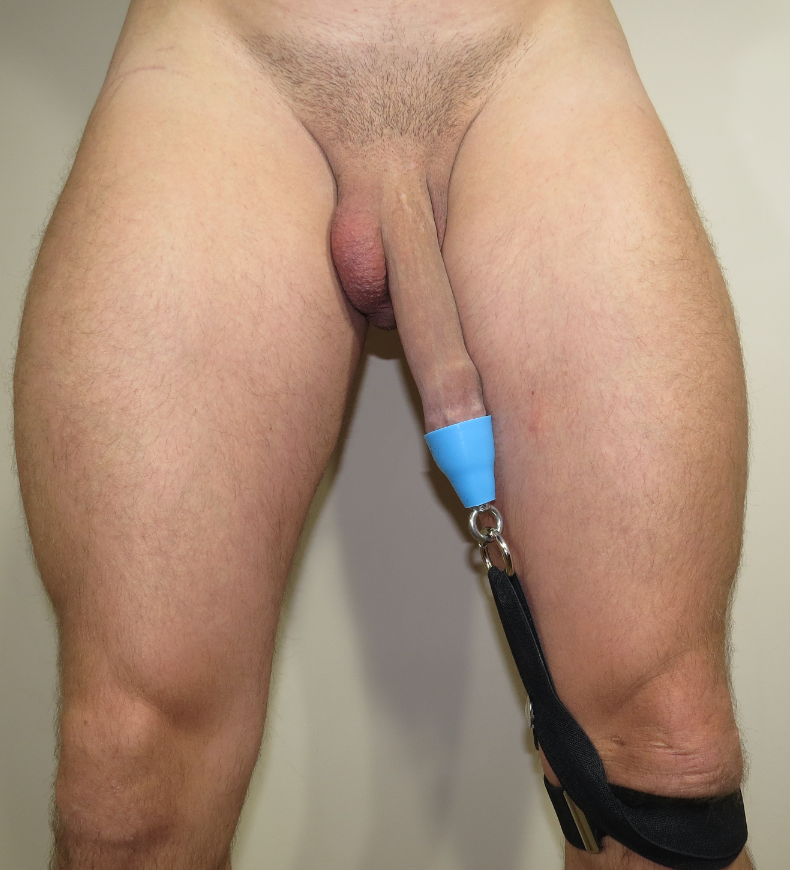 JelqToGain All Day Stretcher.
The idea of an ADS is to keep the penis stretched out after an exercise routine has been completed. If an ADS is not used, the penis will turtle and heal back to how it started. Keeping the penis in an elongated state forces the cells to heal bigger, maximising gains.
This device can be worn anywhere. It's unique hollow cone ensures the device remains securely attached to the Glans whilst maintaining a high level of comfort.
The Inner and outer cones are made out of SkinSafe Platinum Silicone Rubber. This makes the ADS perfectly safe when in contact with the skin.
Applying the JelqToGain ADS can easily be achieved in under 1 minute.
See https://www.jelqtogain.com/exercise-videos for a demonstration and more information.
NOTE: Not for use if you have been circumcised.
Disclaimer:
This JelqToGain All Day Stretcher is provided as is without any guarantees or warranty. In association with the product, JelqToGain makes no warranties of any kind, either express or implied, including but not limited to warranties of merchantability, fitness for a particular purpose, of title, or of noninfringement of third party rights. Use of the product by a user is at the user's risk.
NO REPRESENTATIONS OR WARRANTIES, EITHER EXPRESS OR IMPLIED, OF MERCHANTABILITY, FITNESS FOR A SPECIFIC PURPOSE, THE PRODUCTS TO WHICH THE INFORMATION MENTIONS MAY BE USED WITHOUT INFRINGING THE INTELLECTUAL PROPERTY RIGHTS OF OTHERS, OR OF ANY OTHER NATURE ARE MADE WITH RESPECT TO INFORMATION OR THE PRODUCT TO WHICH INFORMATION MENTIONS. IN NO CASE SHALL THE INFORMATION BE CONSIDERED A PART OF OUR TERMS AND CONDITIONS OF SALE.